A Run the Edge/Run the Year Review for 3 Years
If you're looking for a year-long goal to keep you accountable to movement and health, a good place to look is the Run the Edge/Run the Year challenge. For walkers, it's a great tool to motivate and keep you moving every day of the year. I have done Run the Year for three years, and I want to share what it's done for me and how I walked the year's mileage in 2018, 2019, and 2020. I'll reveal if I'll be doing it again in 2021.
By the way, if you have a New Year's Resolution to start moving, walking, or exercising, you'll want to read this entire review.
What Is Run the Edge/Run the Year?
Run the Year is a motivating tool that tracks your daily steps, helping you accumulate those steps into the year's mileage. So, for example, in 2020, you'd walk 2020 miles. Originally geared to runners, many walkers do the challenge as well.
All you need to do is pay the registration fee, then you sync your tracker such as a FitBit or Garmin. Every time you hit a 100-mile goal, Run the Edge notifies you. You get a little banner and a video which you can share on social if you like. Additionally, you can sign up for short-term challenges (for extra money) that Run the Edge offers to keep you motivated throughout the year.
By the way, I always buy my shoes and gear at REI because of their fabulous return policies. Check out the Garmin I got.
Some people track intentional steps; that is, they turn on their tracker to count particular walks or runs. Others track unintentional steps: that is, they track every step of every day from the night-time pee escapade to the Saturday hike.
I'm an unintentional tracker.
Here's My Run the Year Story
On my December 30 birthday in 2017, I took a look at the belly roll that spilled over my jeans and decided I wanted to do something. At 184 pounds, I needed help. My way of losing weight wasn't working. So I signed up for a weight loss plan, and you can read about that journey here. I also decided to commit to more intentional walking. My friend had just crossed 2017 miles on the Run the Year challenge, and she was going to do it again for 2018. I decided to sign up too.
Ready to face 2018, I signed up for two things; the weight loss program and Run the Year.
The First Run the Year, 2018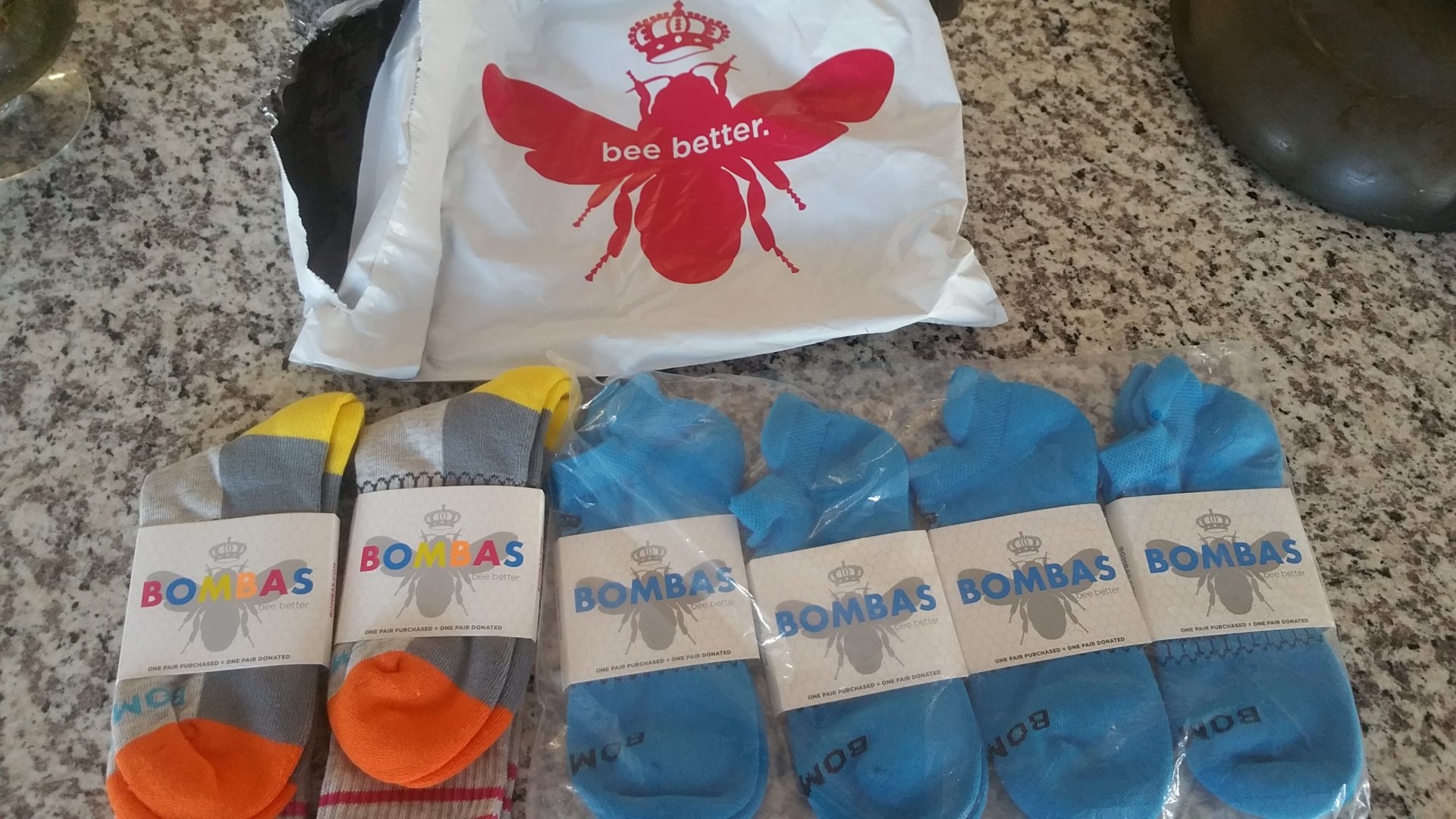 For Christmas in 2017, I had received two significant things for Christmas. A FitBit and a six pack of Bombas socks from my mom. These, and a good pair of shoes were all I needed. (By the way, I have since changed to a Garmin for my tracker and Asolos or Chacos for shoes, but the Bombas socks have remained.)
On January 1, the same day I started the weight loss plan mentioned above, I set my daily step goal at 13500 steps. After doing the math, I knew I had to walk 5.5 miles every day to hit the 2018 goal. I stepped the goal up to 6 miles a day so that I could take a day off occasionally due to fatigue, weather, or circumstances.
Thus, from January-May, I worked out 4 days a week, walked 13500/day, and dieted. It was a heady pace that nearly wore me out. But I got in shape, lost weight, and started realizing I could hit goals.
Over 16 weeks, I lost 34 pounds.
My confidence built.
I adore Patagonia, its ethics, its products and its morals, and I buy their products whenever I can.
The combination of a regimented weight-loss program, the gym commitment, and the daily walking affirmation worked. While walking, not only was I moving, but I was working through some of the emotional issues that were coming out during the weight loss program.
Throughout the rest of 2018, my weight stabilized. I kept up the gym workouts and the walking while increasing my calorie intake a bit to maintain my weight. By the end of the year, I had gained back about five pounds, stabilizing at a comfortable 155 pounds.
On November 26, I hit my 2018 miles goal and signed up again for 2019.
The Second Run the Year 2019
On January 1, 2019, I flew to Santiago, Chile, and boarded a 3-week cruise to Easter Island and French Polynesia. I decided to set my daily step goal at 16000 as a stretch goal and to combat the extra calories I was sure to eat on the cruise. Determined to hit my step goal every day, I made friends with the other walkers on the cruise. I'd walk a few miles (or 20 laps per mile) with a few people, and when they tired, I'd pick up the next group and walk with them. Together with walking in the morning and evening on the ship's docks, I hit the goal every day.
After the cruise, I lived in four different Latin America countries for the first half of the year on a program called Remote Year. You can read about that adventure, here. Without a scale or control over my food, I worried that I'd put the weight back on. So I burrowed down into my step goal, making sure to cross 16000 steps every day. I found gyms to get short term memberships in.
As for food, I refused to pass up some of the local and cultural food opportunities in Chile, Colombia, Peru, and Mexico. Yet, I tried to moderate and balance out my food intake on a daily basis. I tasted all the things, did the walking, squeezed in the exercising.
On October 22, I passed 2019 miles and signed up for 2020. Not having a car and walking everywhere in Latin America helped me finish the goal so early.
When I got back to my life in the US, I weighed 158. But, the extra miles and the pace of the year had caused some knee and foot pain. Checking in with the doc, she basically told me I had overused my joints and I needed to rest a bit.
Now with walking fully and squarely a habit in my life, I didn't know how to handle the "resting" suggestion.
The Third Run the Year, 2020
On January 1, 2020, I set my step goal back to 15000. The year started off fine. I struggled through the 15000 steps, and I made sure to take a rest day each week.
Then COVID hit.
Restrictions reigned down on us. The good news was that we could still go out and walk, but we couldn't leave our county here in Denver nor go to the gym. So my hiking turned into walking, and I started circling my neighborhood. I could barely get in 10000 steps. I was bored to tears. Working out in my basement via zoom just wasn't the same as a gym trip.
By the way, here's a video of my friend hitting her 2020 goal in November! Look at how great the community supported her!
To fight the boredom of walking circles in my neighborhood, I subscribed to Audible and downloaded books. I learned to use Prime Music. My other Run the Edge friends struggled too. I developed walking challenges for them. We all jumped into the Run the Year Facebook group, seeking strategies and support to combat the COVID restrictions. Everyone struggled, yet the community helped with great ideas and happy thoughts.
Together with the restrictions and the mysterious way (haha) that junk food started creeping into my limited life, 5 pounds crept on to my butt faster than a squirrel running from a dog.
The good news was that the fewer steps did allow my feet and knees a bit of a breather. The pain started to go away. In addition, my new gym, F45, that I had started at in November 2019, had me focusing on functional movement. I was getting more range and flexibility in my hips, which was also doing great wonders for my knees, ankles, and feet. COVID actually was working for me in a strange sort of way.
I had to dig deep though. If I was going to reverse the weight-gaining trend, I had to really understand a few things. The first realization was I was not going to be able to exercise my way out of bad eating habits. Although exercise is pertinent to my health and paramount to stabilizing my weight, "exercising more" was not going to take the weight off.
Eating was the culprit.
You Can't Out-Exercise Eating
Why was I eating more? Stress. Uncertainty. Boredom. The underlying fears of COVID. My mind spiraled around forecasting and predicting the doom and gloom of what COVID was going to do to life as we knew it. It wasn't pretty.
Then I had an epiphany.
And of course, it happened while I was out walking where I was putting in my steps and hitting my Run the Year daily step goals.
I can't predict the future.
I can't exercise my way out of an eating problem.
But what I can do is this:
I can stop fretting, and I can start enjoying life.
Regardless of the situation.
Time to Rejigger
So, in April, I rejiggered. Instead of focusing on where I couldn't walk and couldn't go, I focused on where I could go and what I could do. I had time to cook good meals, stick to my vegan way of eating, and buy good quality food that was satisfying.
I subscribed to Forks Over Knives to get great ideas on what to cook. I began going to 5280 Produce and getting a box of fresh veggies weekly, preparing them according to the menus in Forks Over Knives.
My gym reopened. I signed up for the F45 challenge, and soon, the weight started coming off again. The exercise, together with returning to the better eating habits, worked.
I'm now back to 155, and thrilled to be here.
And, I'm on track to cross the 2020 mile around the middle of December. Crossing it will be my Christmas present to myself. And a validation.
What's the Run the Year Validation?
Run the Edge/Run the Year is the glue that has kept my health on track. It's reminded me, daily, that walking is a lifeline to physical health, mental happiness, and social connection. Over three years, while I've struggled to maintain my weight and modify my eating habits, Run the Year's accountability mechanism that made me walk everyday kept my whole body in check. Walking daily is now a habit, just like calling Mom on Sunday.
So if you're thinking about whether you should sign up for 2021, just do it. By doing Run the Year for three years, this is what I've learned:
I can achieve goals
I can keep a consistent healthy behavior
I can treat my body well
I can find happiness through walking
I can do things I've never done before
You can too.
Will I do it for 2021? Stay tuned.