Five Months Traveling in Southeast Asia
We arrived in Southeast Asia to get survey on my arthritic knee. After years of pain and discomfort, I had finally decided it was time to find some good medical care, take some downtime to fix and heal, and get my hiking desires back on track. Thus, after an extensive search for good orthopedic surgeons throughout Southeast Asia, we landed in Kuala Lumpur, Malaysia in December 2022 to start our 5 months in Southeast Asia.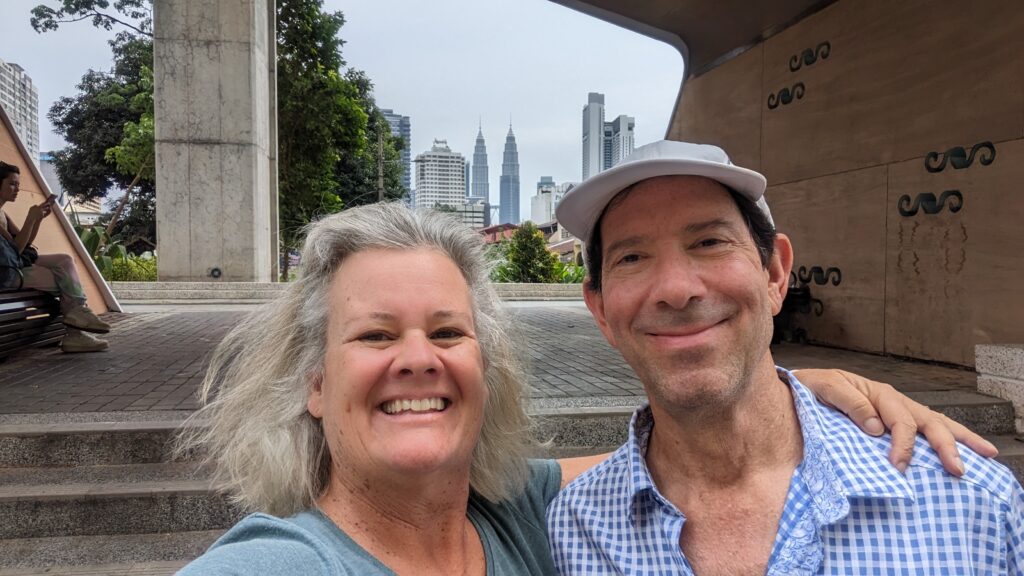 Finding medical care around the world isn't too difficult, but it takes time. While sitting in Croatia, I started my search, reading various websites and Facebook groups. With recommendations from others who had similar experiences, I found three doctors in Kuala Lumpur (KL), made consultation appointments for the week after our arrival, and started making plans. These plans included finding a comfortable Airbnb that would accommodate me if I did in fact end up with a new knee requiring lots of physical therapy. Medical care outside of the USA is often better and cheaper than medical care in the USA. I was on the hunt for a good orthopedic surgeon in Malaysia to get surgery on my knee.
You can watch our video about how we found the Malaysian surgeon, a review of the Malaysian hospitals (Pantai, Glen Eagles and Prince Court), details about the orthopedic surgery procedure for knee arthritis, meniscus tears and cartridge repair plus stem cell treatment, and all of the costs on our youtube channel.
The month of December filled with doc visits, health checks, procedures, surgery, and physical therapy. By the time January rolled around, I started my healing process. Slow and steady wins the race, and it was a race that would take almost four months until I felt steady on my knee again.
In the meantime, while in KL, I limited my mobility to walking only and tried my best to avoid stairs and anything strenuous while my knee began its healing process from orthopedic surgery and stem cell replacement therapy. At only three weeks post surgery, I was itching for something more interesting than the view out of our apartment in Airbnb.
96 Hours in Singapore
New Years Eve popped up as a reason to take a birthday trip to Singapore. Steve and I took a five-hour bus ride south to Malaysia's tip into its sister country of Singapore. Dazzling and bedazzled, Singapore delighted us for 96 hours. Its New Year's Eve celebration brought in 2023 with drone shows, Japanese fireworks, laser shows and a 90-minute fireworks show. If you ever get the chance to go to Singapore for New Year's, jump at the opportunity.
Steve's favorite thing–being right under fireworks as they light–kept his heart gleefully happy as we returned back to Kuala Lumpur to finish out my doctor's care for the month of January. While in KL, we enjoyed social activities with many friends, including the Batu Caves, The Islamic Art Museum, a trip to Malacca, and enjoying all the Chinese New Year activities in the area.
48 Hours in Penang
Our time in KL came to an end two months after arriving. We took a train to the small town of Ipoh and got "kidnapped" by a local stranger-turned-friend who then squired us around the tourist sites in Ipoh including the highlands, the tea plantations, and the sampling of white coffee. Two days later, we continued on train to the island of Penang.
Our Georgetown hotel in Penang put us in the center of the Thaipussum festivities. An Indian celebration that appreciates the god Madrugan, we witnessed piercings and barefoot pilgriming. Sadly, we had no time to do much else on the fascinating island. We'll need to return. Our too-short visit had us jetting over to the island of Borneo to see orangutan.
96 Hours in Borneo
Watch our video below for what happens when things go wrong. Despite our best intentions, getting new passports and securing proper entry stamps in KL didn't go well at immigration in Penang. Nonetheless, we finally got sorted out and flew to Malaysia's eastern states on the island of Borneo.
In Borneo we explored the town of Sepidan, and we met a collective of orangutan in the rescue center. From there, we found ourselves on a river cruise to hunt wild orangutan with our cameras. Not only did we find the wild animals, but we found probiscis monkeys and other tree-climbers.
Separate Vacations for US Both
With some great wildlife sightings under our belts, Steve and I broke up to take separate vacations. He wanted to stay in Borneo to get his advanced SCUBA certificate with Scuba Junkies in what Jacques Cousteau called the world's best area for diving. Me, on the other hand, I felt the need for some yoga and mediation. I journeyed to Thailand for a week's retreat in Chiang Mai at Suan Sati.
Catch our video about the details for our separate vacations.
We reunited with love and tenderness a week later to enjoy a stay in Chiang Mai. From a chat with a monk to an open mic night, we adored our time in Chiang Mai. Vibrant temples, interesting night markets filled with vegan foods, and warm Thai people sharing their lives with us, we found Chiang Mai to be a place we'ld like to return the next time we're in Thailand.
One Week with Thai Elephants
For something different, Steve and I decided to volunteer at Elephant Nature Park (ENP) for a week. There we learned about the brave work being done to rescue elephants from around Thailand. Traditionally used in logging and other beast-of-burden activities, elephants have moved to more modern-day circus activities to entertain tourists and make money for their owners. From elephant riding to elephant bathing, these elephants are still being dragged through inappropriate behaviors not suited to a life of dignity.
At ENP, we learned the history and plight of Asians elephants and discovered that the leaders at ENP are trying to change all of this. A new business model around elephant rescue not only allows the elephants to live and die with dignity, it also provides a living for the community. In addition to learning about the business of elephant rescue, we worked for a week scooping elephant poop, making elephant sandwiches, and pruning the fire line around the refuge. We adored the week and will return. See our video for all the details about Elephant Nature Park.
72 Hours in Khao Sok
After three weeks in smoky Thailand and a quick stop through Bangkok, we needed a clean-air break and popped into Thailand's fantastic national park, Khao Sok. For four days, we stared at astounding beauty of limestone cliffs while jumping into fresh water from our over-the-lake bungalow. It was here, I realized I really like lake living. Who knew?
11 Days in Koh Phi Phi
Continuing south through Thailand, our next stop found us on Koh Phi Phi, a brilliant island just off the coast of Krabi. Why Koh Phi Phi? We discovered we could snorkel right from the beach–no boats required. For eleven days, we hiked Phi Phi's mountains, snorkeled from the beach, and ate our weight in Pad Thai. Although many friends mentioned that eleven days on this island would be too much, we enjoyed all those days immensely.
If you must pick between these two amazing water-based places in Thailand, it'd be a difficult choice. This video not only overviews both places, but it might help you decide which location to pick. Steve and I disagreed on which location was our favorite.
Two Weeks in Vietnam
Our 45 days of Thai bliss came to an end, so we flew to DaNang, Vietnam and found ourselves in the darling resort town of Hoi An. Lanterns decorated every doorway and a perfectly walkable city. We rented bikes to journey through the rice paddies, floated our wishes in river lanterns, and ate some of the best Bahn Mi in Vietnam.
A week of time was too short for Hoi An, but we had reservations in the beachside city of DaNang. Finding what might be the perfect city that meets all of our requirements, we explored DaNang. Situation on the East Vietnamese sea, with a gorgeous river running through it and a set of mountains to its east, this well-located city also has a wonderful airport. Or in other words, it checked all of our boxes and its affordable, too. Two ex-pats convinced us that we'll need to come back to this fantastic town in the future to see if it's a place we can live for longer term.
48 Hours in Taipei
We ran ourselves out of Southeast Asia, making our final stop in Taiwan, which may or may not be part of SEA, depending on your perspective. A three-day stop in Taipei allowed us a nice lay-over on our way to Japan. While there, we made friends with another full-time traveling nomad, and together, we visited the local, public hot springs. Over 100 years old, this small public pool held the communities elders. While they soaked in the warm natural waters getting more wrinkled, we tried out best to blend in. But not well.
Finally, on our last day in Southeast Asia, a friend whom I've hiked hundreds of miles with in Denver had moved to Taipai. We enjoyed an urban hike through her natal town, arriving at Taipei 101, their iconic skyscraper shaped like a bamboo stalk. A fitting tribute to our final days in Southeast Asia.
Return to Southeast Asia
There's so much we didn't get to; lots of northern Thailand, Cambodia, Laos, northern Vietnam, among others. So, we'll be back. Not only to return to some new favorites, but to continue our exploration of a vibrant area filled with friendly people. Thanks SEA.