Take a Good Walk Portland Maine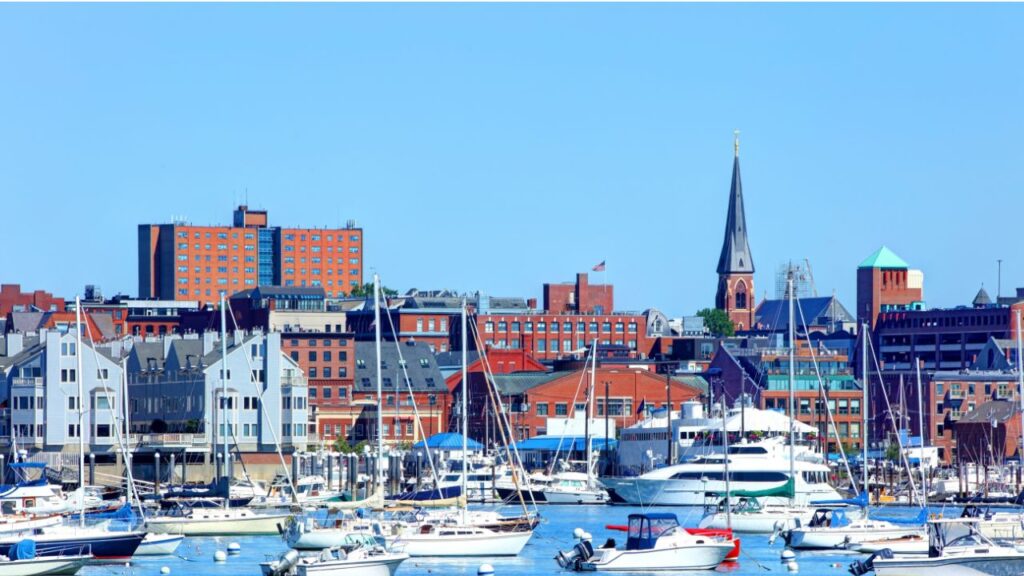 Download an interactive map of this walk by clicking here.
Quaint and Trendy Portland, Maine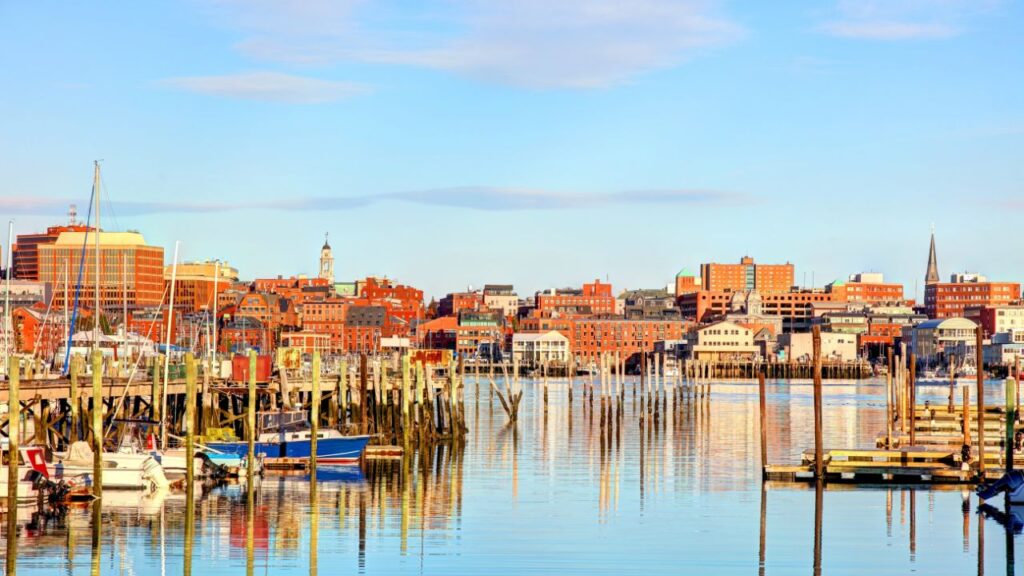 Tucked up in the top right corner of the U.S., Maine's geography doesn't escape my ability to take a good walk in Maine. Portland's energy and food-abundance attract the adventurer, and this city doesn't disappoint when finding surprises, good walks, and tasty, homemade ice cream. My walk on this cloudy, sprinkle-y day ventured along the Portland waterfront, starting at the U.S. Custom House. Take a good walk Portland Maine.
Portland's Waterfront
The U.S. Custom House sits stately along the waterfront, daring importers to bypass it. Although it no longer houses Customs, the federal agencies within have made great use of the space. Walking past it made me think of the nautical history and the importance of Portland in our immigration and importing industries, especially when it comes to fish and lobster. Thus, I had to immediately grab some lunch, and I couldn't pass up Gilbert's Chowder House.
On this day, the Tall Ships graced the wharves, and Gilbert's was packed. But it's always packed due to its delicious and fresh chowders, calamari and lobster rolls. My sister, a long-time Mainer, feasted on her usual–clam chowder in a bread bowl, and I munched down the amazingly fresh lobster roll. The prices are good–a bit touristy–but worth the admission to the view of the wharf.
Rather than venture into the many shops and nooks and crannies of Portland, we stayed to the wharves. Our first poke into the edge of Casco Bay brought us down the Portland Pier, only to realize that we would rather be next door at the Fish Wharf. If you've ever wanted to see how commercial fisherman process their haul or what it might smell like, this is the wharf to amble. Because it was later in the day, we missed the early-morning activity of processing, but we still found a few spots where the day's catch was being cleaned and the tanks watered down.
Great Shopping on Portland's Wharf
To our surprise, we found a darling shop to buy Sea Bags–purses and such made out of sail cloth. Here's one of the funny things about Maine: Mainers love the nautical presence, and you can buy many a Maine item made from nautical parts. You'll find bracelets made from nautical rope and brass clasps, jewelry made from sea glass and shells, and belts made from fishing nets. None the less, these hand-made items scream high quality and permanence, which is a nice change of pace.
We could barely stand the stench of the wharf, so we journeyed back to the street. A live band played at one of the restaurants, and the music wafted along the sidewalk as we made our way to the next wharf. Crowds blocked our view of the Tall Ships, thus we made one more last dash through the drizzle to the marine terminal which houses the Casco Bay Line ferries. Here you can catch a ferry out to many of the islands for just a few clams–about $10 a head. If you've got the time, jump the boat to Peaks Island (here's 5 things to do on Peaks Island) and find yourself bags and bags of sea glass.
Tall Ships in Portland!
Lucky for us, an outdoor market had sprung up on the wharf due to the Tall Ships' arrival. A few artisans hocked their wares. I picked up a gorgeous pair of earrings, and my daughter began to beg for ice cream. I would bet some statistician has compiled the numbers to prove that Maine has the most hand-made ice cream stores in the country. I'm not sure, but I can certainly say they seem to be on every corner.
Gotta Have Ice Cream!
We made our way back along the waterfront to Curlio's ice cream. To.Die.For. I couldn't resist a double scoop of Black Raspberry and Maine Blueberry with a dollop of fresh whipped cream. I actually wish I would have gotten two scoops of whipped cream and one dollop of ice cream. The whipped cream must have been whipped straight from the cow!
Sadly, it was time to say good-bye. Although the walk was short at a little over one mile, I got a good taste of Maine–both figuratively and literally! If you've got the time to scoot up to Maine, take advantage of it. Maine loves its visitors! Take a good walk Portland, Maine.
For an interactive map of this walk, click here.