The Secrets to Doing the Galapagos for Cheaper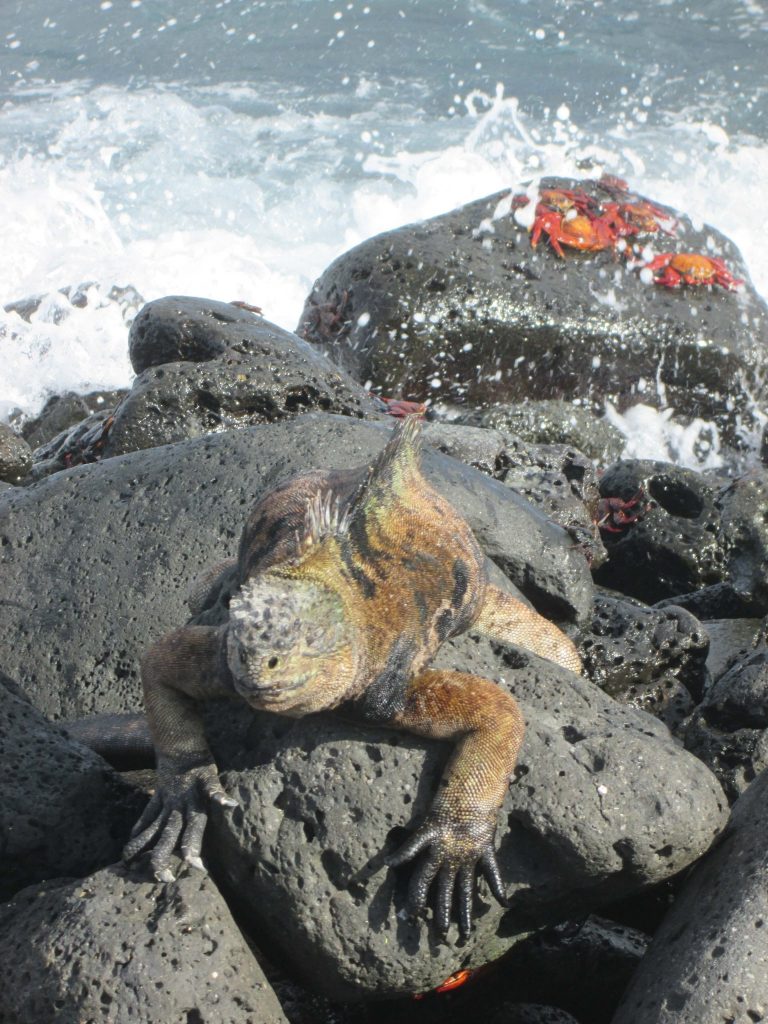 I just got back from the Galapagos where we stayed for five days, and I have the secrets to how to do the Galapagos for cheap. You don't have to spend $4-5000 to enjoy the archipelago and see all the animals. No need to do a Galapagos cruise, buy a Galapagos vacation, or wonder which is the best island to visit. Here's how to enjoy a budget Galapagos vacation by hacking the tour operators and seeing all you want to see for next to nothing. It won't be free, but you can do the Galapagos for cheaper. And you can enjoy a Galapagos Airbnb too.
Tip 1: Getting to Puerto Ayora When Arriving Galapagos
If you've been doing your research, you've discovered that you get to the Galapagos via either Quito or Guayaquil. We went to both, and I wouldn't visit Guayaquil again, but I would visit Quito (see my post). Once you leave mainland Ecuador, you'll land on the island of Baltra in the Galapagos. From the airport, put on your patience hat and your sense of humor. Get on the bus, take the ferry (have a single dollars handy for the trip, per person) across the very narrow and small channel, and enter the island of Santa Cruz. When you get to the port on Baltra, there are taxi drivers just waiting to give you a ride.
So, trick number 1: Don't prearrange your transfer at premium rates.
There are plenty of drivers looking to fill their trucks for the ride back into town. The trip into Puerto Ayora will cost you a fixed rate of about $20, or you can take the local bus for about $4.
Tip 2: Stay in an AirBnB in the Galapagos
Don't go for a fancy hotel with all the trimmings. You're not going to the Galapagos to stay in your room. All you need is a bed to sleep and a hot shower. The internet throughout the island is horrible, and television reception is minimal. Don't waste your money paying for a hotel that won't be able to deliver on these premium items. An Airbnb house or room will be fine.
Tip 2: Find an AirBnB that is close to the port, which also means you'll be close to places to eat and the grocery.
We stayed at this AirBnb. It was perfect for the three of us, and it could easily sleep 4. Convenient, clean, comfortable.
Tip 3: Book Your Tours When You Get to the Galapagos
Once you get to Puerto Ayora, you'll see dive shops, travel agents and tour guide offices. Many of them will have white boards outside of their front doors promoting different trips. Go in and have a chat. Tell them how long you'll be in town, what you want to do and which species you want to see. Identify if you want to just snorkel or dive. Go to 2-3 different places and get a feel for the offers. The secret is to talk to many of them so you can figure out how to do the Galapagos for cheaper. You can get cheap Galapagos tours this way and enjoy Galapagos tours on a budget. Enjoy the Galapagos on the cheap.
Basically, they'll be offering the following:
Uplands tour, which goes to Chato 2 ranch where Galapagos turtles roam freely, and a stop at Las Gemalas, a geological feature
Bay tour, which takes you to see white-tipped sharks, float by blue-footed bobbies and snorkel with sea turtles, manta rays, sea lions, and coral fish
Isabela boat tour ,which puts you on a 2-hour ride to Isabela island to see flamingos, penguins, sea turtles, to snorkel sharks, sea lions, and sea turtles, and to swim in the Crevices
North Seymour tour, which takes you on a 30-minute boat ride for you to snorkel off Baltra Island and then takes you to the North Seymour island to see frigates, boobies, sea lions pups, and land iguanas
Bartolome boat tour, which takes you on a 90-minute boat ride to see interesting geology and landscapes
Santa Maria boat tour, which puts you on a 2-hour ride to Santa Maria Island to see basically the same animals as Isabela
Pinzon boat tour, which is an hour boat ride to Pinzon to see flamingos and sea lions.
The other islands in the archipelago are not easily accessible within a day and require an overnight stay, driving the price up of the tours.
Once you get a feel for how much you want to pay and how long you're willing to be in boats, you'll know what you want to do for your time in the Galapagos and how you can do the Galapagos for cheap.
Tip 4: Cutting a Deal in the Galapagos
We were three people looking for a tour each day for three days. After shopping around, we decided to do the Uplands and Bay tours on Day 1, Isabela on Day 2, and North Seymour on Day 3. Individually priced, they ran a combined total of about $500 for three tours per person. Each tour has a different price depending on what is charged on each island for the entry fee.
We settled on working with "Johnny" at Los Viajes de Darwin. His first price to us was $425 per person (2016 prices). I flat out told him that it was too much and said I'd be willing to pay $275 per person. He came down to $350. I stayed at $275. He came down to $325. I went up to $300, and he asked if I had cash. Knowing what you want and what the other vendors charge, you can use your information to negotiate with him and do Galapagos for cheap. And don't be fooled. All the vendors know what everyone else is charging; they're just betting that you don't.
Fortunately, the ATM was next door at the grocery. My husband and I withdrew the $900 cash from two accounts (the ATMs limit withdrawals to $600 a day), and we paid Johnny, very satisfied. I just want to say that as we met others on our tours who had booked through travel agencies prior to arrival, we found that we had saved at least 50% if not 75% by booking in person at the Galapagos. People who had pre-booked through agencies or online spend double what we spent. The only difference? None.
One last note about the tour operators. When you venture to the other islands, you'll be put on the next available boat/ship/yacht. Regardless of the vehicle, the ride to the islands is quite bumpy. Many people get motion sick. Before leaving the port, be sure to stop in the farmacia and get two motion sickness pills–one for each way–they should cost about $.25 each. If you simply won't buy medicine abroad, be sure to stock up before leaving your home country.
Tip 5: Eating in the Galapagos on a Budget
Like many vacation areas, there are always rows of restaurants in the tourist areas which overcharge for pieces of fish, drinks, and meals. Puerto Aroya is the same. Although we couldn't resist a nice sit-down meal after a long day in the sun, quicker and cheaper street food is readily available one block off the main drag in "the kioskos." They may look a bit gritty, but step right up and grab yourself a cheap meal. In addition, right to the right of the super mercado is a dive joint where the tour guides eat. Knowing Spanish will help you do the Galapagos for cheaper, but it's not necessary for survival.
Tip 5.5: A good breakfast can be had for less than $5 in Galapagos.
Finally, the super mercado is poorly stocked and pricey, so I wouldn't count on it for stocking your AirBnb fridge with dinner foods. It's best for breakfast, where you can grab fresh fruit, yogurt and pastries for half the price of the coffee shops.
Tip 6: Getting Around the Galapagos on a Budget
For a few bucks, the white truck taxi will take you around the center of town. If your AirBnB is newer or the sign for it is not obvious, be sure to write down your address and carry that with you. The streets don't have signs, but the drivers know where everything else is if you can describe it or give an address. Our AirBnB was "behind the basketball courts", which I was able to tell our driver in Spanish. By the way, your Spanish will go a long way here. Although the tour guides and waitresses speak English, using your Spanish will be well-liked and warmly received.
Tip 7: Finally, there's a lot of graft in the Galapagos.
Be sure to have $1 and $5 coins/bills on you to pay the ferry driver, the snorkel equipment owner, the dock master, etc.
Have a Great Time in the Galapagos
When I first booked our three flights for less than $2500 (including Machu Picchu), I was worried that we wouldn't have enough time and that we wouldn't find things to do. Neither were true. How long should you stay on the Galapagos?Three full days was a perfect length of time. We saw the major animals we wanted to see, spent less than we thought we would, and saw more than we planned. I wouldn't change a thing about our trip. We did the Galapagos for cheaper by not only buying our tours directly, staying in an AirBnB, and eating at the kioskos, but we only stayed three full days instead of the suggested week. Please post questions and post pictures from your trip! I can't wait to see/hear your adventure. Tag them #eatwalklearn.