Turn Your Walking Resolution into Your Health Vision
I'm glad you're here. I want to help you walk more. Walking more will benefit you in thousands of ways. But making "walking" as an exercise goal to "lose 20 pounds" is a mindset I'd like to help you, literally, move away from. I'd rather help you visualize a life where walking moves from a choice, to a behavior, to a lifestyle in five easy steps.
As walking becomes a lifestyle, you'll find fitness, happiness and connection.
All you need is the invite to walk. Keep reading for tips on how to make a "start walking resolution" turn into a vision of yourself enjoying your life's surroundings.
Step 1: Throw Away the Walking Chart
Before walking can become pleasurable and a lifestyle, it has to stop being a chore. When we track steps and distance, the focus is on goals and completion, not on worthiness or joy. Although I do think knowing how far you've walked is interesting and can help you see how much time it takes to walk places, charts isolate the movement to an item on a ToDo list.
Walking is a natural process our bodies reward us with, it's not a ToDo item.
Step 2: Tie on Your Shoes
Before we talk about where we'll go, let's first talk about shoes. The great thing about walking: you can probably walk right out the door with the shoes on your feet. You don't need special work out clothes, jackets, or shoes. If you'd like to have them, great. I have a few recommendations elsewhere on my blog, but what you have on right now is probably sufficient.
Step 3: Walk
Here's the secret about walking. All you have to do is get out your door and walk. You don't even have to have a place to go. Yet, here are some suggestions.
Most folks live within 2 miles of the grocery, their school, the post office, the drug store, a park, or other places where you "run errands." Set your sites on walking to one of these places. If 2 miles is too far, that's okay. Instead, walk to your post office box, over to see your neighbor, near your favorite tree, or even just one block.
When we are used to driving every where, we often have no idea what's even near where we walk. Put on your explorer's hat, and just go on an adventure. Distance isn't important. Connecting and finding and discovering are.
Once you begin adventuring, the steps, blocks, kilometers and miles will add up.
Step 4: Add Structure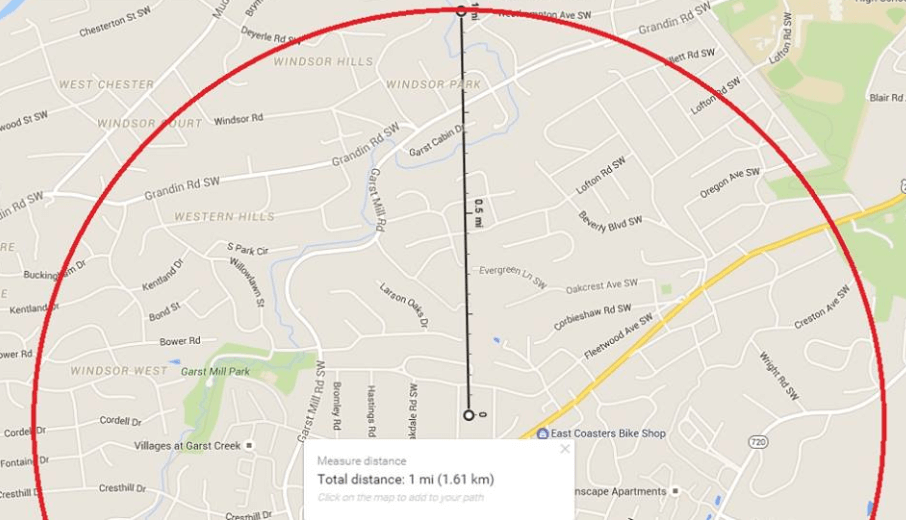 If Step 3 is what's working for you, fine. But if you want a bit more, take on the 1-mile radius walking challenge. If you're good at google, go to google and map where your house is. Use the distance tools to draw a 1-mile radius around your neighborhood, with your house in the center.
Now take a look. What's in that 1-mile area? Make it your goal for the next week to explore the surface area of that 1-mile circumference. I bet you find things you never would have found driving.
Post a picture below of what you found. Make it a selfie! Let me see your adventure so I can come along with you, virtually.
Step 5: Find Walkers
If you're happy stopping at step 4, fine. But I'll tell you another secret about walking.
People who walk are swell. They are happy, positive, and joyful. They get this way because they walk. They are fun to be around, rewarding, and embracing.
There are some times that I *need* to walk with folks, but there are other days I *need* to walk by myself. If you're in Denver, join me for either or both of my two weekly walks or join other weekly walks in Denver. If you're not in Denver, go to www.meetup.com and find some walking groups in your neighborhood. If there isn't one, start one! I'll blog about starting your own walking group shortly.
And there you have it. If you've created a Start Walking Resolution, that's Step 0.
If you follow my steps above, you'll walk all year long, and your resolution, which is a choice, will move from a behavior to a lifestyle.
Follow me throughout the year as I blog about great places to walk around the world. And congrats on taking the first step to changing your wellness by making a Start Walking Resolution. Don't forget to post a picture below of what you found. Make it a selfie!